How to protect wooden outdoor furniture?
Wooden outdoor furniture has warming effect and makes our gardens and patios very special. The look is not comparable with outdoor furniture that are made from atrifitial materials. But because wood is a natural material that absorbes and release moisture, it needs constant care and maintainance .
Differing from  indoor wooden furniture, outdoor wooden furniture is constantly exposed to different weather conditions. Harmfull UV rays from the sun can lighten and even can cause permament discoloration  on wood over time. On the other side moisture can deteriorate and rot the wood .
That's why is very important to know how to protect wooden outdoor furniture.
When we are speaking about those damages on outdoor wooden furniture we must mention that they occur when the wood is expose on the elements for longer period of time ( depends of the quality of wood and protection ).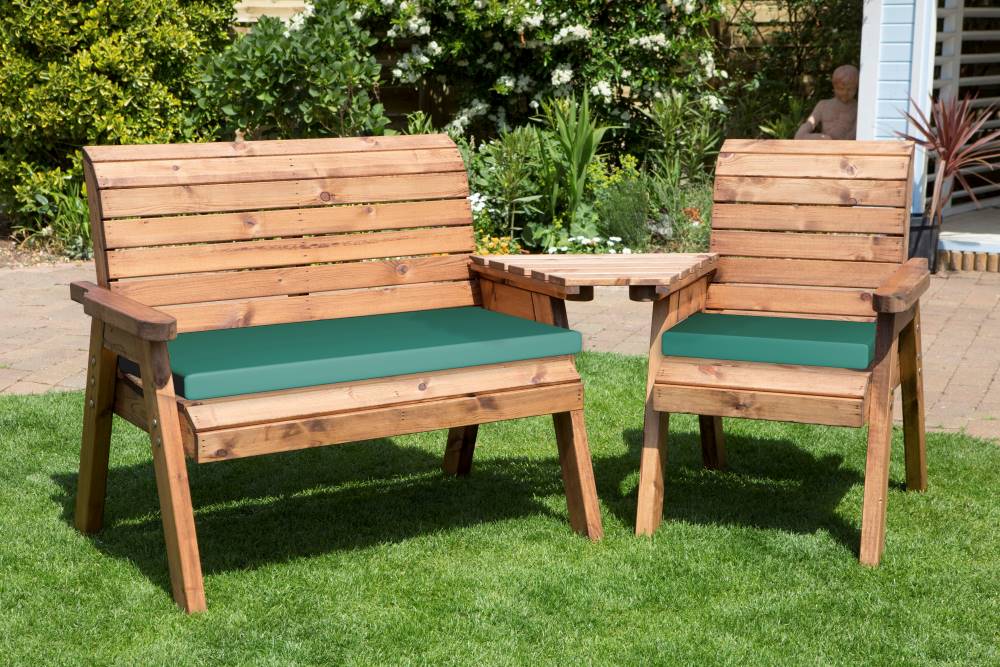 Outdoor Wooden furniture from sun
Except discoloration and fading prolonged sun exposure can crack or split in the wood, making  permament  damage of the wood.
Always place the furniture under the shade, and never leave long period under direct sun exposure. Also whenever you can use covers. For many outdoor furniture covers can be bought together. When is Off season store the outdoor furniture in the garages or in other indoor places in cool, dry conditions. If you don't have indoor place, use covers and at least place it on dry spot.
The best protection from sun are  UV protection wood finishes. Many wood finishes like pain and varnish or lackears beside other benefits they are protextion the wood from UV rays too.  But the best finishes for sun protection are specialized UV finishes, they are providing instant cure of the wood, are lasting longer ( few years ), are environmental friendly, and are protecting against moisture too. Also those finishes can be used indoor too.
Outdoor wooden furniture from moisture
As we mentioned wood is a natural material that absorebes and release moisture, so it is very important to protect it from it. Using covers and placing the furniture in dry place is also important for protecting the furniture from moisture. The best protection from moisture are wood sealers. Wood sealers are wood finishes that protect it from moisture and they are ussualy clear/transparent. Ther penetrate the wood and  prevent  the water to enter inside the wood. They can be water and oiil based and except from moisture can prevent the furniture from scratches.